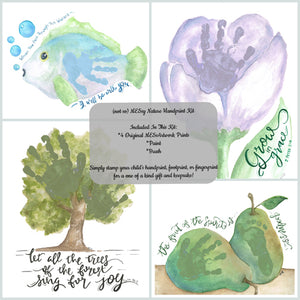 The perfect keepsake to cherish those little (or growing way too fast) hands and feet...because they won't be little for long.  
Nature Kit includes four prints (Fish, Flower, Tree, Fruit) and the supplies to add hand prints, footprints, or fingerprints.  You can include multiple children or even the whole family.
Give the entire kit as a gift and experience OR complete hand print art and give each piece separately to share the love more than once!
Kit Includes:
-4 Original MESsArtwork Prints that can be framed to 8X10
-Paint for each print
-Brush
-Helpful Hints